DEMONSTRATIONS COMING SOON
CALL US FOR DETAILS

What's different about WEST?
INCLUDES CONTRA-ROTATING ROTORS, THESE MOVE STONES TO THE OUTSIDE OF THE MACHINE, WHERE SPRUNG SIDES ALLOW THEM TO PASS THROUGH LIMITING DAMAGE.
MORE BLADES THAN COMPETITORS.
WIDE ANGLE PTO, AS STANDARD.
ELECTROHYDROLIC SPREAD CONTROL AS STANDARD.
REAR SLURRY DOOR AS STANDARD.
Rear Discharge Spreader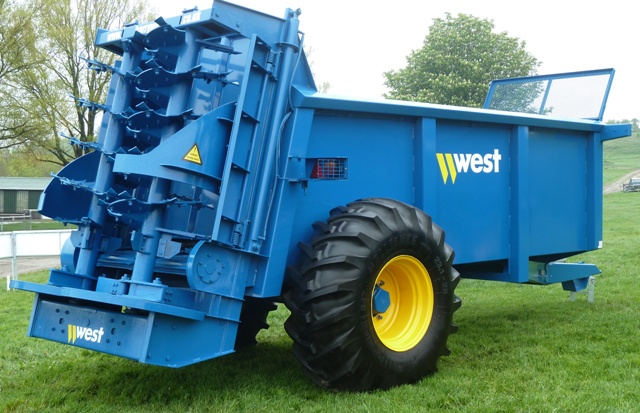 23.1 X 26 TYRES
STANDARD SLURRY GATE
HANDLES ALL TYPES OF MATERIAL
WIDE AND EVEN SPREAD PATTERN
SPRUNG ACTION DEFLECTOR PLATES
CONTRA-ROTATION BEATERS – 400RPM ROTOR SPEED
IN-CAB ELECTRO/HYDRAULIC OPERATION OF BED CHAIN PLUS REVERSE FACILITIES
HEAVY STEEL CONSTRUCTION – 4MM PLATE
Dual Spreader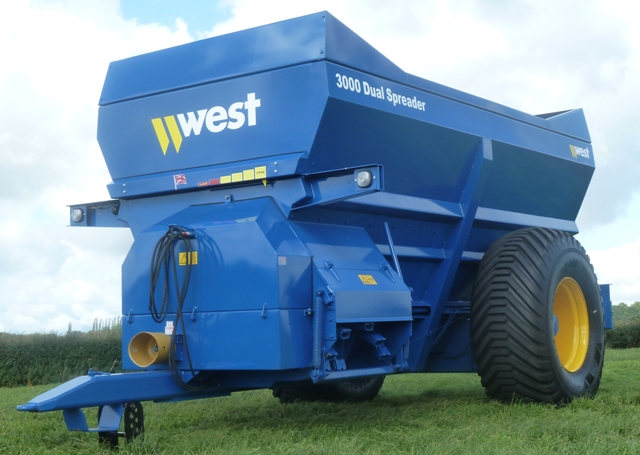 Most popular dual spreader in the UK.
Patented automatic moving side wall for continuous agitation as standard, results in no bridging of dryer materials.
Winner of the prestigous RASE Gold Medal Award.
The market leader with over 50% share in the UK for the last few years.
Easily Driven, which results in low power consumption and fuel saving. Only 80hp required.
Over 35yrs of proven reliability.
Large tyre surface area to limit land damage.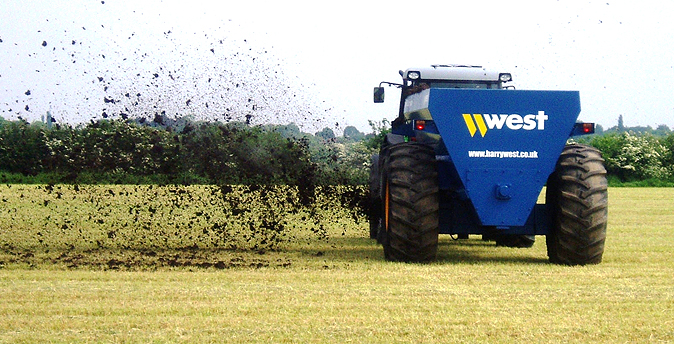 Diet Feeders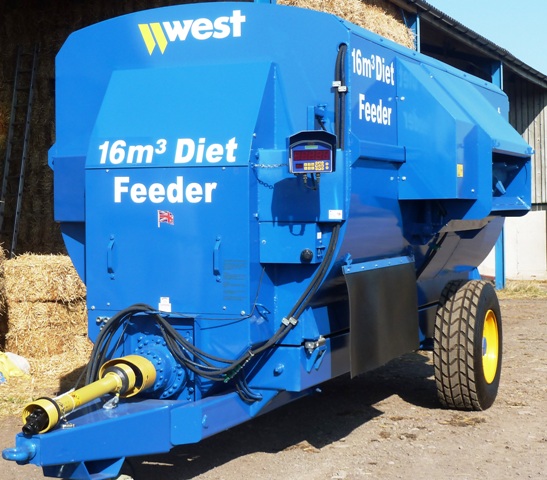 IMMEDIATE LATERAL MOVEMENT
IMPROVED MATERIAL SEPARATION
IMPROVED MIX PRESENTATION AND HIGHER FEED OUT
LOWER POWER REQUIREMENT
REDUCED MIXING TIME
INCREASED ACTUAL MIXING CAPACITY
Full Range of SEKO horizontal and vertical diet feeders.
Harry West manufacture a range of agricultural products such as: diet feeders, trailers and farm buildings, but are best known for their Dual and Rear farm yard manure spreaders which enjoy OVER 50% of the British market share, making them the undisputed market leader. The Harry West spreaders are superbly designed and built to last with top quality steel and components.
While other brands of duel spreaders suffer from bridging over the auger the West dual spreaders feature a patented moving wall to prevent bridging and keep the manure flowing! Discharge is via beater paddles at the side of the machine for precise spreading. The sealed body of the dual spreader means it is ideal for spreading slurry from holding tanks and with emptying times of 6-8 minutes make the Harry West Dual spreader a top performing machine.
Harry West Rear Spreaders do better again when it comes to emptying times of 3-5 minutes for a 12 tonne load. The heavy duty chain and bar floor is infinitely adjustable to move even the most straw-laden manure. Contra-rotating vertical beaters at the back of the machine on load supporting plates mean continuous, blockage-free operation with all types of material, and at 80hp power requirements it is clear the Harry West Rear Spreader is the obvious choice.
But don't take our word for it! Ring us for an owner reference to contact someone near you who is already enjoying the reliability and spead of operation that Harry West spreaders offer.